(ALCP-150)Newest Lightweight Concrete AAC Wall Panel and ALC Wall Panels
Product Description
Product Description Features & Advantages of lightweight ALC/AAC wall panel  
1. Lightweight: Aerated concrete density is usually 400-900 kg/m3(according to the market), 
 which is 1/3 of clay block and 1/5 of common concrete. 
2.Fireproof: Most of the major raw materials is inorganic materials, so it has good fire resistance,
 and do not emit harmful gases when meet fire
3.Sound insulation: As the material inside has a large numbers of the pores and porous, which 
has a  good thermal insulation properties.
4.Thermal Insulation: Thermal conductivity is 0.9-0.22 W/(MK), which is 1/4 of clay bricks.
5.Anti-seismic: It can improve the two seismic than the brick level.
Aac Panel
 is for Autoclaved Aerated Concrete Panel, which are made from sand, cement, lime and gypsum.  AAC Panel is steel reinforced and lighweight. this AAC Panels can be easily cut, drilled, screwed and grooved.  AAC panels may be well used as external wall, internal wall, floor, roof, cladding, fence etc .  AAC panels have been widely used in various buildings such as residential, commercial, industrial buildings and projects in China and many other countries.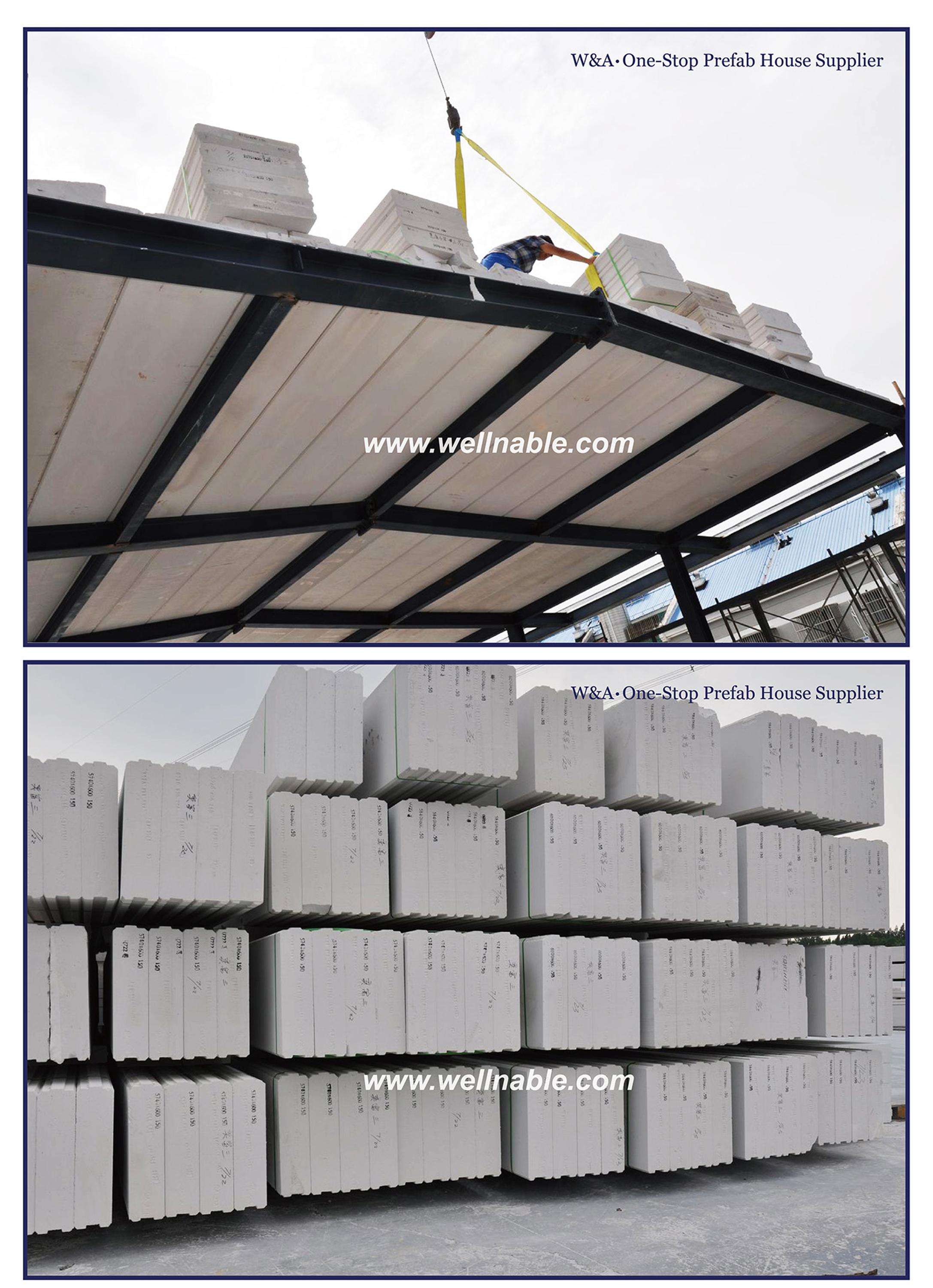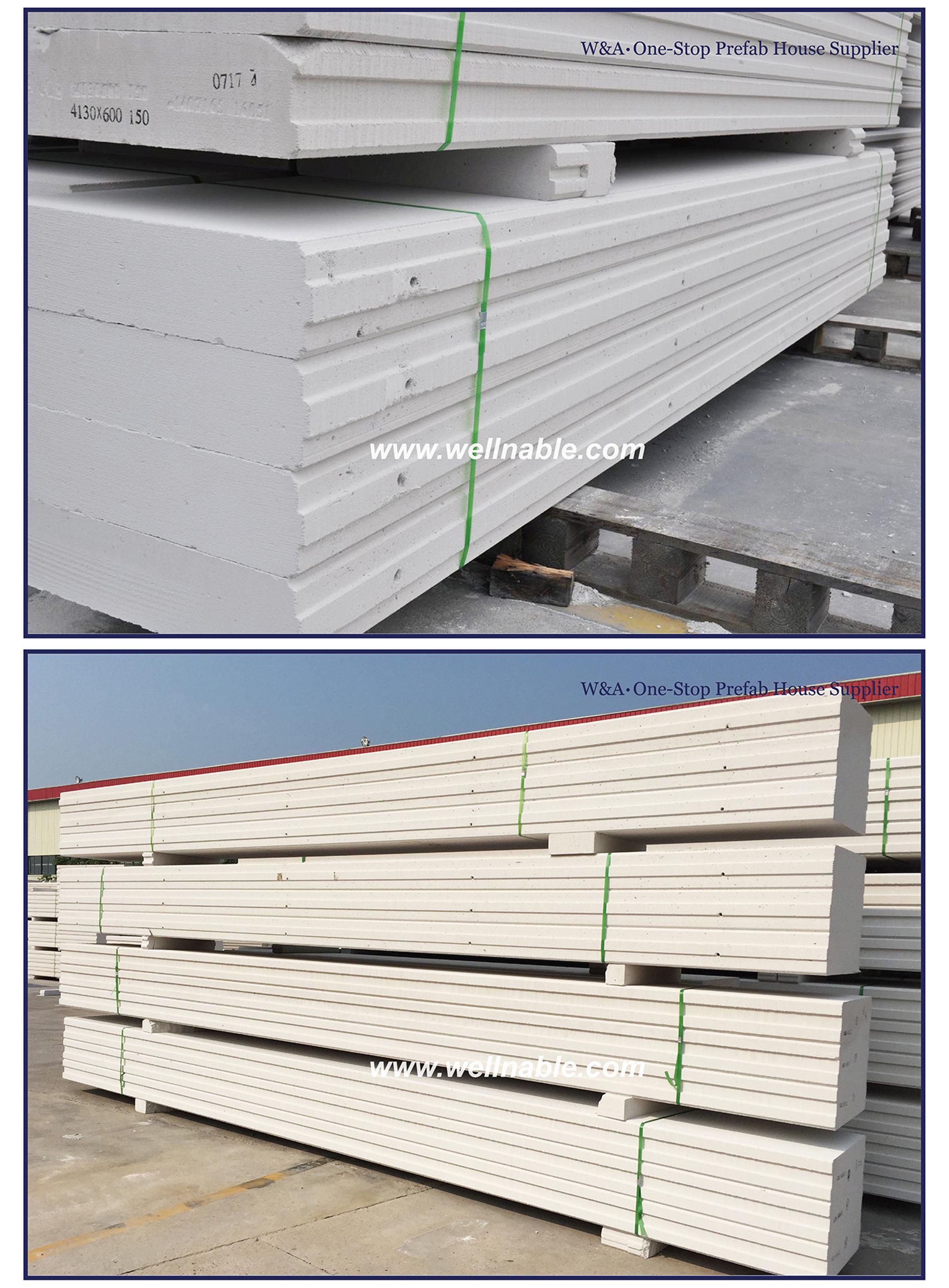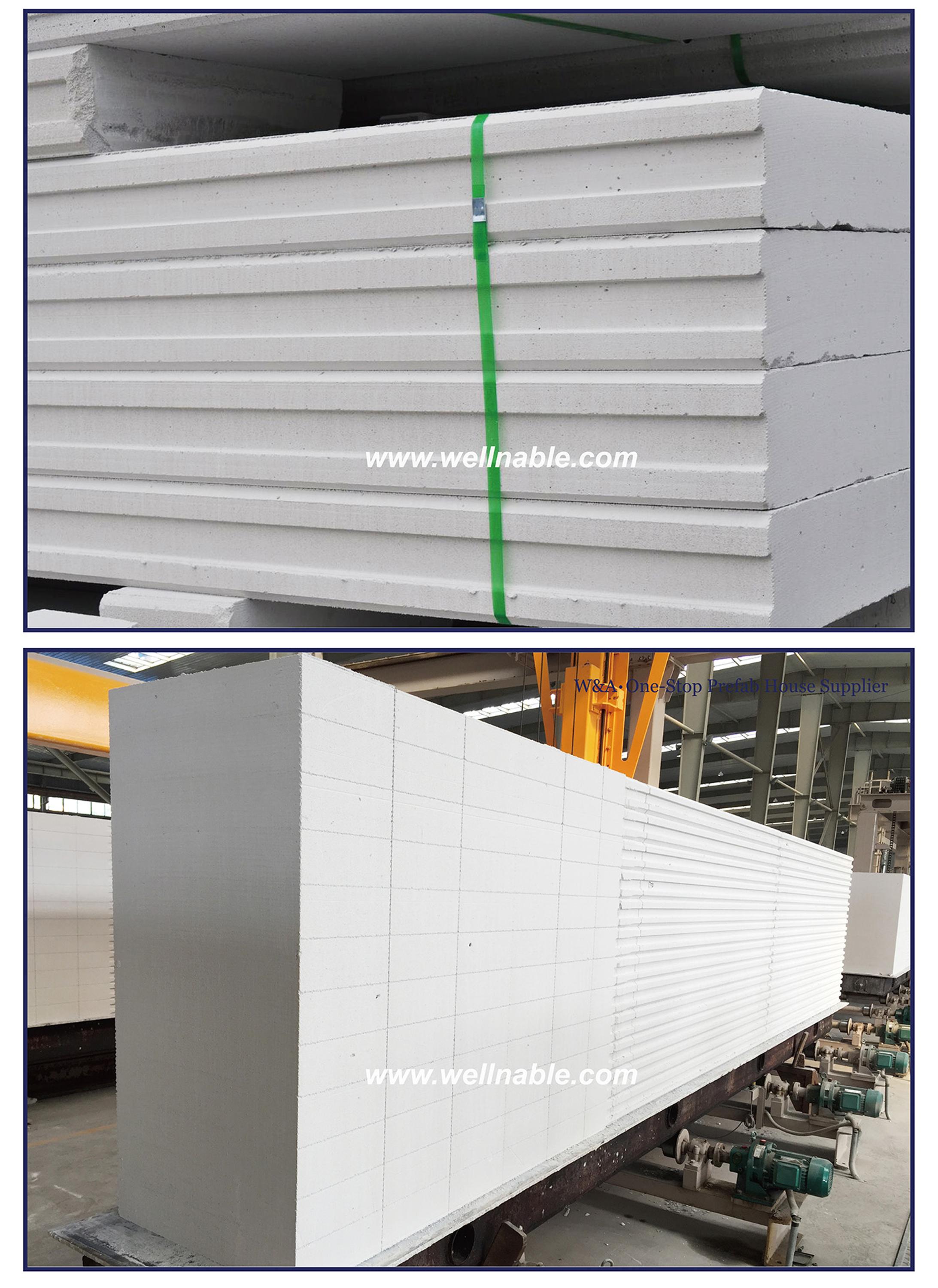 Our Services We offered which based on the 40ftHQ container Price fluctuated with the varied type of container and customized size of
Alc Panels
1. Lightweight: with density of 750kg/m3, 1ALC=1/4 concrete=1/3 clay bricks 1ALC=1/4
2. Heat insulation: with thermal conductivity of 0.174W/m K
3. Sound insulation: 100mm ALC wall with a layer of putty on each side can achieve a STC of 40.8db
4. Seismic resistance: reinforced ALC panels have better resistance to earthquakes
5. Non radioactive: radioactive rate of ALC is 12D/h similar to that of outdoor grass
6. Bearing capacity: panels are equipped with reinforcements, facilitating them to be used as external walls to withstand the wind loads, as floor and roof panels
7. Crack resistance: since the final stage of manufacturing process involves  stem curing which relieves all the internal stresses, ALC blocks/panels have better resistance to crack
8. Convenience: ALC panels can be fabricated to custom size with high precision minimizing any cutting on site
Panels can go as high as 6 meters resulting in faster construction
9. Economy: since the ALC is much lighter than concrete or clay bricks, the dead load of the building on the foundation is also reduced by an enormous amount
10. Versatility: ALC blocks/panels can be used for concrete structure and
Steel Structure
buildings as well, they can be used for commercial, industrial, residential and all types of development
11. Efficiency: ALC blocks/panels have a smooth surface avoiding the need of plastering, saving lot of time and manpower to finish the walls
12. Fire-resistance: 100mm ALC
Wall Panels
can achieve up to 4-hour of fire resistance, 50mm  ALC wall panels can achieve up to 2 hours of fire resistance and can be used for fire-proofing of steel structure purpose
ALC panels
T: cm
FOB Nanjing USD
Minimum order quantity m2
Unit
L (cm)
W (cm)
H (cm)
Loading M2 40ft HQ
Total/pallet
Net weight (kg)
Total m2/pallet
Pallet size (cm)
Pallet weight (kg)
7.5
USD 11.75
400
M2
220
60
7.5
400
8
64
11
220x60x110
50
10
USD 15.66
300
M2
280
60
10
300
6
109
11
220x60x110
50
12.5
USD 19.58
240
M2
280
60
12.5
240
5
137
9
220x60x110
50
15
USD 23.49
200
M2
280
60
15
200
4
164
7
220x60x110
50
20
USD 31.32
150
M2
280
60
20
150
3
218
6
220x60x110
50
FAQ 1. What is Precast ALC
Concrete Wall Panels
? Autoclaved Aerated Concrete (AAC) is a lightweight concrete that is formed into blocks and panels for a wide range of loadbearing and non-loadbearing construction applications. It is manufactured from silica sand, cement, recycled material, lime, gypsum, aluminium paste and aerating agents. It is moulded, cut and steam pressure cured in an autoclave before being packed, ready for transport.
2. Is Precast ALC Concrete Wall Panels a new
Building Material
? Aerated Concrete Autoclaved (AAC) is an amazingly innovative building material that has been used in Europe for more than 80 years and in the US for more than 15 years.  
3.Where has Precast ALC Concrete Wall Panels been used? It can be used ranging from low rise industrial/commercial developments to high rise offices or medium density residential buildings. 
4. Is Precast ALC Concrete Wall Panels a load bearing material? The intensity of pressure for cube is more than 4mpa. The load bearing capacity for one point is more than 1200N. The rebars within AAC panels are made according to computer calculating force. As a non-loadbearing cladding, AAC panels can be used under circumstances of pressure.
5.What are the benefits of Precast ALC Concrete Wall Panels over other building materials? a.Cost effective - lightweight panels allow for reduced structural components and smaller lifting equipment. b. Excellent thermal resistance performance. c. Acoustic performance - effective sound transmission barrier between external and internal environments of the building. d. Excellent fire rating properties. e. No wet trades - less mess and a cleaner, safer work area. f. Less wastage - significantly reduced waste as panels can be custom-made to length requirements. g. Fewer waste bins and less crane movements. h. Design flexibility - panels can be easily cut and routed to suit design requirements. i. Panel lengths up to 6 metres.  j. Strong, secure and durable with corrosion protected steel-reinforced panels. Company Information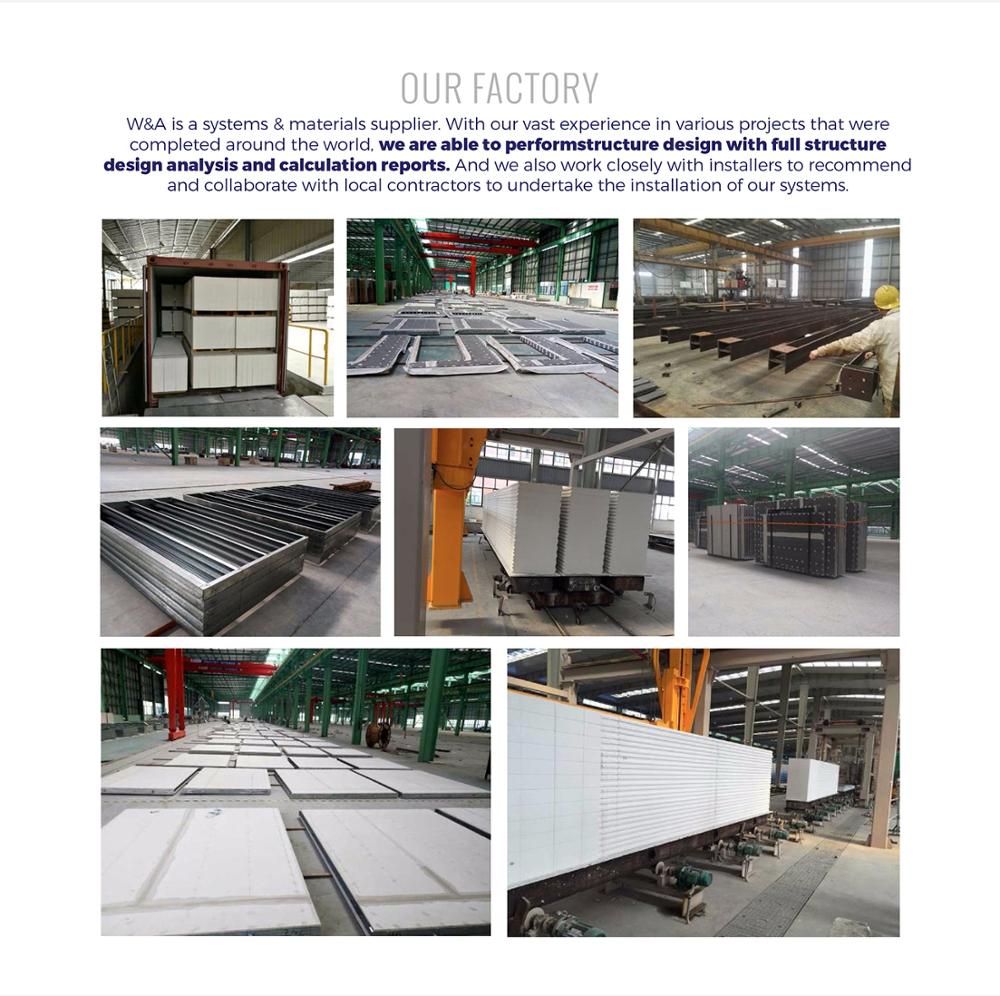 Contact us if you need more details on Alc Wall Panel. We are ready to answer your questions on packaging, logistics, certification or any other aspects about Aac Wall Panels、Lightweight Concrete Wall Panels. If these products fail to match your need, please contact us and we would like to provide relevant information.
Product Categories : Building Material > Wall Panels